Hobie Eclipse
Stand tall on the water aboard the Eclipse, another world's first watercraft from Hobie. Incredibly stable, just get on and go using MirageDrive leg power. Soon you'll fly high at exceptional speed, nimbly carving turns using fingertip steering controls.
Never been on a SUP before?
No worries! Kayaks by Bo will make sure you are comfortable on a SUP. We offer beginner SUP classes as well as let you demo our SUP boards. Call the shop at 321-474-9365 to set up an appointment. Paddleboarding develops core muscles and balance—it's the perfect training activity for surfers, skiers and paddlers
Hobie Eclipse
Go from the car, the dock, or your boat to the water i minutes. Cruise solo, with your partner or with a group.  The Eclipse takes fitness out of the gym and onto the water and under the sun.  The board is lightweight and durable and full of thoughtful features such as gear tie-downs and a carefree kick-up rudder. The Eclipse takes standup to a whole new level.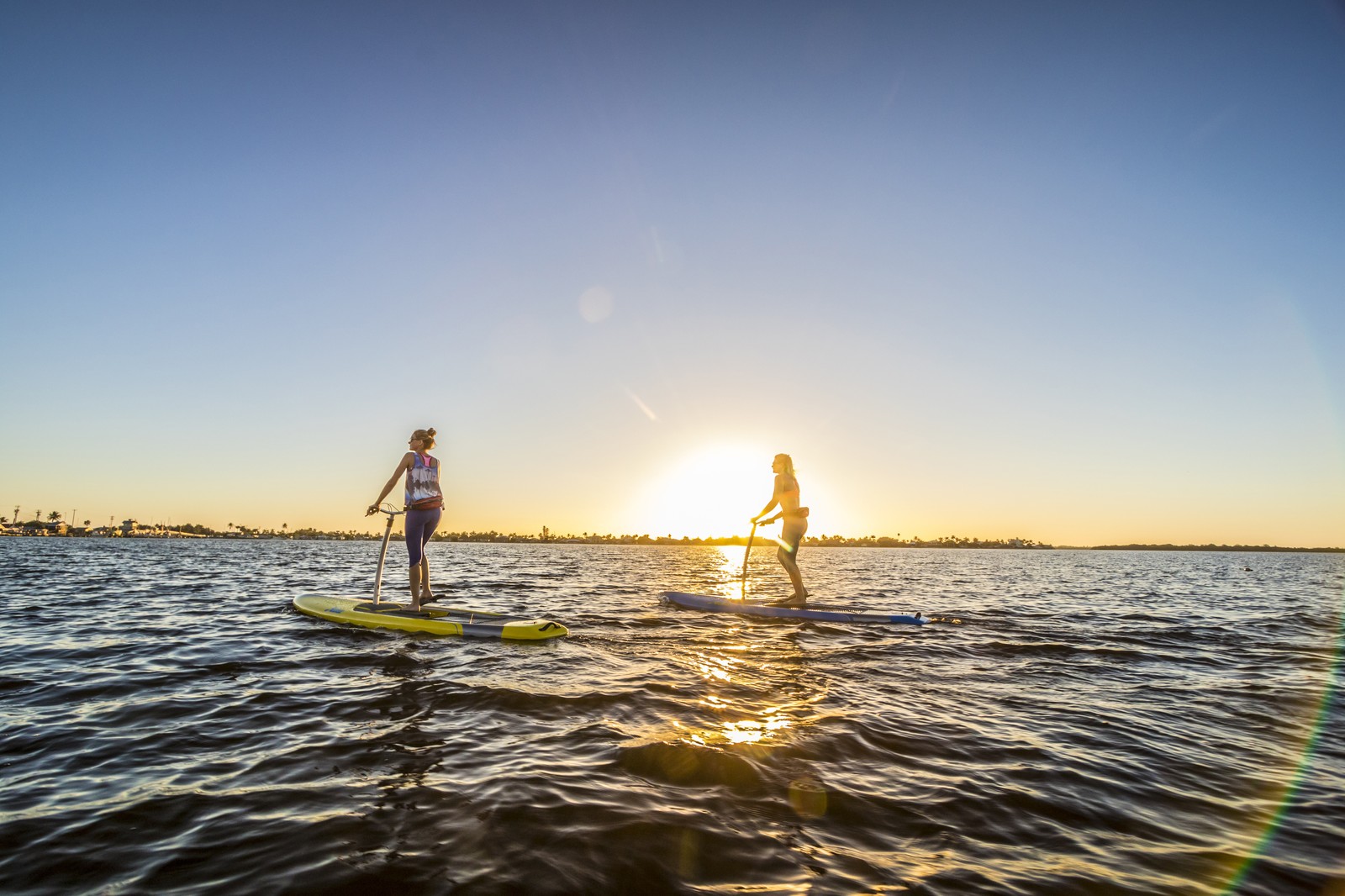 Miragedrive w/ Glide Technology – Hobie's world-renowned hands-free MirageDrive propulsion – no paddle needed – has been perfected for the standup world.
Removable Kick-Up Rudder- The durable rudder offers pinpoint standup steering unique to the Eclipse.  Chart a confident course – the Eclipse is equally at your command through tight twist and long straightaways.
High- Grip EVA Deckpads –The large EVA decked provides carefree, high-traction footing and comfortable cushioning for all-day endurance. It extends all the way to the stern to protect the deck.
Cargo Bungee – Take it with you, whether it's a day bag, small pack or even camping gear. Aft deck Bungee tie-downs can also hold a cooler or accessory H-Crate securely in place.
Quick Set Adjustable Handlebar and Steering Controls- The sleek aluminum alloy handlebar enhances balance and stability.  There's no need to hold on tight.
Quick Set Handlebar Receiver – When it's time to hit the road or stow the Eclipse, the Adjustable Handlebar is removable in a snap.